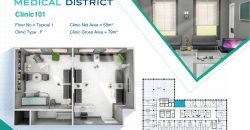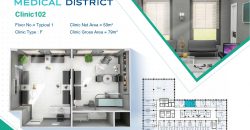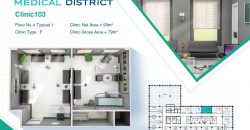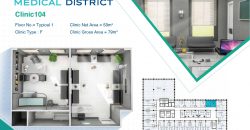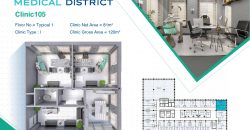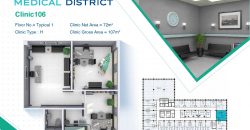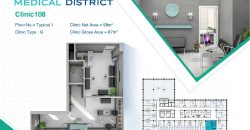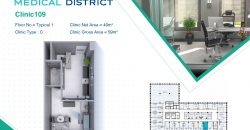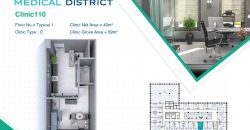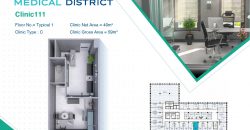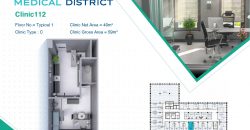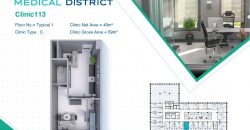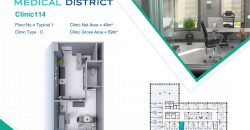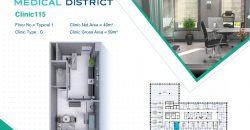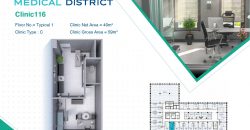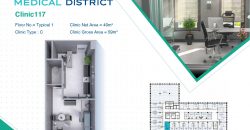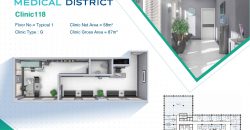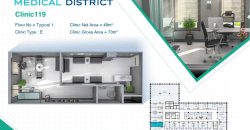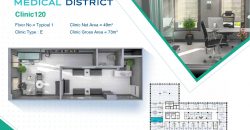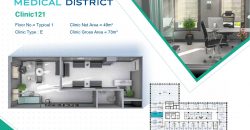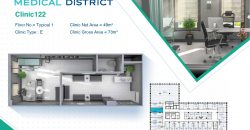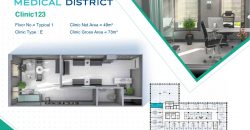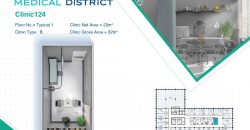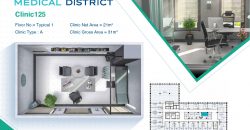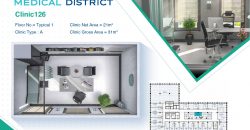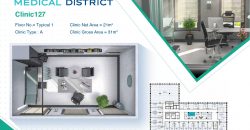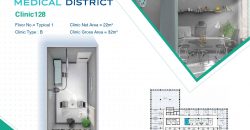 Description
The Ultimate Healthcare Destination
Access to premium quality healthcare and wellbeing has never been more possible as Redcon Medical Parks promise to alter the medical landscape by accommodating the needs of patients, healthcare roviders, as well as the environment. The fully integrated medical destination is set to be a regional and local healthcare magnet that signals a paradigm shift in convenient, quality healthcare for people.
Community
Life at Alburouj can be described in one word: Fulfilling. Its harmonious design allows one to find peace of mind, tranquility, and a chance to appreciate the beauty of the universe. The project, which lies over 1,043 acres is comprised of all key pillars of the community: Education, Culture, Healthcare, Hospitality, Nature, Sports and Business facilities. Contentment and the feeling of fulfilment are achievable for all in a quality and affordable environment. Alburouj, has built its community to reflect these beliefs, and it is committed to building the perfect integrated community. A community that is not only in touch with reality but on a constant mission to elevate the surroundings and bring forth a better tomorrow for all its residents. By incorporating alternative energy options, conservation-minded water management and waste recycling, Alburouj creates sustainable communities in harmony with its natural surroundings.
Location
Situated right on Ismailia Road, the state of the art healthcare gated facility is at the center of the commercial district in Smart Village East. Easily reached with a wide range of road networks that offer easy flow of traffic and mobility, Alburouj Medical District is walking distance for the diverse inhabitants of Smart Village East and the neighborhood in addition to the surrounding highly populated communities such as El Shorouk, Obour City, Oraby 10th of Ramadan, Badr, Stellaa and New Heliopolis among others. This location places Alburouj Medical District at the center of a large and thriving community that will require access to state of the art medical services. In those communities alone there are millions of residents with a healthy population growth, making Alburouj Medical District a highly rewarding location to provide healthcare services.
At A Glance
Comprising 4 buildings, with total built-up area of 33,000 m2, the Medical District offers a fully integrated medical destination which includes a diverse number of healthcare facilities and services.
The design is created to ensure privacy, space efficiency and operational sustainability. The 100 polyclinics and a number of independent clinics are planned to serve patients as well as practitioners
already living within the project's 30km radius.
Building 1: Polyclinics, independent clinics, pharmacy, lab, diagnostic center, Gym, Wellness Center. restaurants and coffee shops
Building 2: Hospital
Building 3: Specialized medical centers, restaurants and coffee shops
Building 4: Polyclinics, independent clinics, restaurants and coffee shops
Practitioner and Patient Centric Destination.
Alburouj Medical District unique location has been selected with an eye towards ensuring ease of access and convenience for both physicians and patients alike. Going beyond that the state of the art design, layout, facilities and amenities have been established to international standards, and are based on the outcome of an independent market research conducted by "Accsight"*. The survey has provided
valuable insight of our patient and physician requirements which were the baseline for the design, configuration and amenities of the healthcare facilities in Alburouj Medical District.
Building 1
With a built-up area of 11,000 m2, the fully finished complex is built to accommodate small to medium-sized polyclinics, flexible layout independent clinics, pharmacy, wellness center, gym, diagnostic center & lab, along with a lineup of restaurants & coffee shops within the same building.
Market Insight 
A Destination Perfectly Compatible with your needs
A yearlong survey of the market, by Accsight, identifying the current medical landscape, offerings, gaps
and patient behavior within the 10, 20 & 30km radius of Alburouj Medical District has offered a number of
interesting findings which have been incorporated into the development of the district. These findings are the
result of a survey of both patients and physicians in the area and beyond ensuring that we fully understand
your needs.
Modern and Inviting Interior Design
The carefully selected and blended colors, textures and tones will create a relaxing and rejuvenating atmosphere. The promise of high quality workmanship will enable this destination to claim the title of "Best in Class".
Efficient – Sustainable – Biophilic Design
It has been proven that biophilic architectural planning influences our overall health in a work environment; being in close proximity to elements of nature can reduce stress and elevate our sense of innovation while accelerating the healing process
Our sustainability approach covers the design, construction and operation phases in order to deliver premiumbuilding quality and save on operating costs. We aim to spearhead the industry of sustainable medical parks in a manner that is significant to our stakeholders as well as the environment.
Facility Management
With a view to the future we want to make sure that Alburouj Medical District continues to be in the same pristine condition as the day you have relocated there. To ensure this we employ state of the art
facility management services. facility management services are of critical importance when looking to buy a new clinic as the need for maintaining premium-quality, cost-effective, and timely solutions is invaluable especially in the area of healthcare. Redcon provides the highest quality of facility and waste management in the market to ensure that the facilities are kept clean and well maintained in accordance with international environmental and health care hygiene standards thereby providing physicians with the right workplace in which they are able to deliver healthcare services safely and effectively. The facility management services aim to improve the quality of healthcare provision by ensuring that all risks involving hygiene are identified and managed in an appropriate manner. The fully comprehensive complex provides all 100 clinics and independent clinics with a built-in system for treating biomedical waste thereby ensuring a safe environment by reducing the possibility of health care associated infections.
Our range of quality services include, among others:
• Repair and maintenance
• Housekeeping
• Security
• Biomedical waste management and disposal
Ample Parking
The parking area at Alburouj healthcare facility adopted new codes to ensure
a hassle-free process for physicians and their patients. It has the capacity to
accommodate large numbers of parking spaces in the basement and
open-air shaded spots available for 24 hours.
Address
Country:

Egypt

Province / State:

Cairo

City / Town:

Alburouj

Neighborhood:

Shorouk City - Alburouj
Open on Google Maps
Property ID

2043

Price

Price on call

Property Type

Commercial

Property status

Current